Written by The Night Sky Guy on June 22, 2009 – 4:04 pm -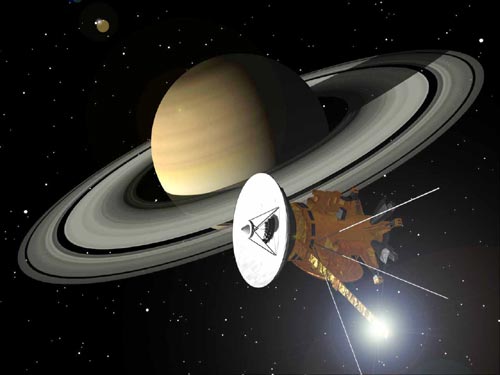 In anticipation of the upcoming equinox at Saturn, the imaging science team on NASA's Cassini spacecraft is releasing today a series of images and movies capturing scenes possible only once every 15 years. This bounty of sights, that includes time-lapse sequences in which Saturnian moons eclipse each other and cast long shadows onto the planet's famous rings, represents only some of the fruits expected for the extended "Equinox Mission" for Cassini, the robotic explorer that has been orbiting Saturn since July 1, 2004.
 
Saturn's spin axis is tilted relative to its motion around the Sun, and its year is equal to 29.5 Earth years. Equinox, the twice-yearly period when the Sun passes through the plane containing the planet's rings, will happen for the first time in almost 15 Earth years on Aug. 11, 2009. The novel illumination geometry created by the approaching equinox lowers the Sun's angle to the ring plane and causes some of Saturn's moons, as well as out-of-plane structures in the rings, to cast long shadows across the rings, creating vistas never before seen by any Saturn-bound spacecraft.
 check out more amazing new images here.
Courtesy of THE CASSINI IMAGING CENTRAL LABORATORY FOR OPERATIONS AT THE SPACE SCIENCE INSTITUTE IN BOULDER, COLORADO
Posted in
Uncategorized
|
227 Comments »