Written by The Night Sky Guy on April 12, 2013 – 11:57 am -
Skywatchers should be on the lookout for Northern Lights starting April 11th, Friday night into Sunday morning thanks to the most massive solar flare this year so far.  The Sun threw off  a huge cloud of charged particles a few days ago and it is expected to arrive sometime over the weekend of April 13th.
Latest NOAA forecast reports indicate there is a %60 chance of geomagnetic storms in the early morning hours of Saturday (April 13). The large sunspot group AR1719 is Earth-facing and is quite active still with  15% chances of it producing an x-class solar flare (strongest possible) in the next 24 hours. So this means there may be even stronger solar storms on the way soon. We will just have to wait and see what happens.  Stay tuned…
Read the rest of my solar storm story at National Geographic news.
Tags:
Auroras
,
CME
,
northern lights
,
solar clare
Posted in
Auroras
,
Solar System
,
Sun
|
Comments Off
Written by The Night Sky Guy on April 1, 2013 – 1:39 pm -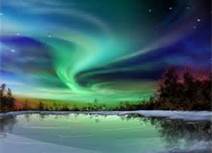 The past couple of months have produced wonderful sky shows across many high-latitude countries. We are heading towards the solar maximum in the next couple of months so hopefully more intense and colorful auroras will be in store for skywatchers.
Check out some of the most impressive pics from the editors at National Geographic in my new gallery…
Tags:
northern lights
Posted in
Auroras
,
Solar System
,
Sun
|
Comments Off
Written by The Night Sky Guy on July 13, 2012 – 12:06 pm -
A controversial new study was released this week that states observers of aurora borealis should really perk up their ears and listen for eerie sounds from these cosmic fireworks shows. A Finnish researcher has been able to record baffling 'clapping' sounds that appear to be directly connected to intense northern lights episodes.
While this new evidence looks quite convincing, the researcher believes that the best is yet to come. Within the next year the sun's activity will continue to increase as it reaches its 11 year peak called solar maximum in 2013. Already this past year has seen a pretty noticeable  uptick in the number and size of sunspots and monster solar flares peppering the Sun's surface. This has resulted in more frequent and intense auroras being visible in southerly latitudes that usually don't see much sky activity.
Now the Finnish scientist is banking on this increased aurora activity coupled with the popularity of mobile recording devices like smartphones and iPads translating into more chances for skywatchers to hear and record something than ever before.
"One of the motivations in publicizing these new findings is to wake skywatchers up to keep their ears open and make those observations – using mobile devices and even their home video cameras," says the researcher.
Read more about this novel research on noisy auroras and hear an actual clip of these eerie sounds in my new story at National Geographic News.
Tags:
aurora sounds
,
Auroras
,
northern lights
Posted in
Auroras
,
Solar System
|
1 Comment »